Ever wish you had more storage? For our Bayfront Transitional homeowners, taking advantage of waterfront living meant downsizing from a larger home, so ensuring their new home would have plenty of storage space was a high priority during the build process. We worked closely with them and got creative with their storage solutions to make sure no empty space was left without a cabinet or drawer.
The home's stairwell turned out to be the perfect place to get started. Not only did they want a bar under the stairs, they also wanted to make sure that every inch of available space could be fully utilized for additional storage. Instead of encasing the stairs with paneling, leaving empty space buried beneath the stairwell, we installed a cabinet door with a push latch mechanism to provide access to the space so that our clients could have another place to store items for their bar. Without hardware the cabinet door blends in seamlessly, complimenting the rest of the finished carpentry work in this contemporary home, which was designed by Brandon Architects with interiors by Churchill Design. For more staircase inspiration, check out the stairs at our Balboa Modern Farmhouse, Harbor Island Traditional, Marigold Modern Zen, and Via Quito Traditional homes.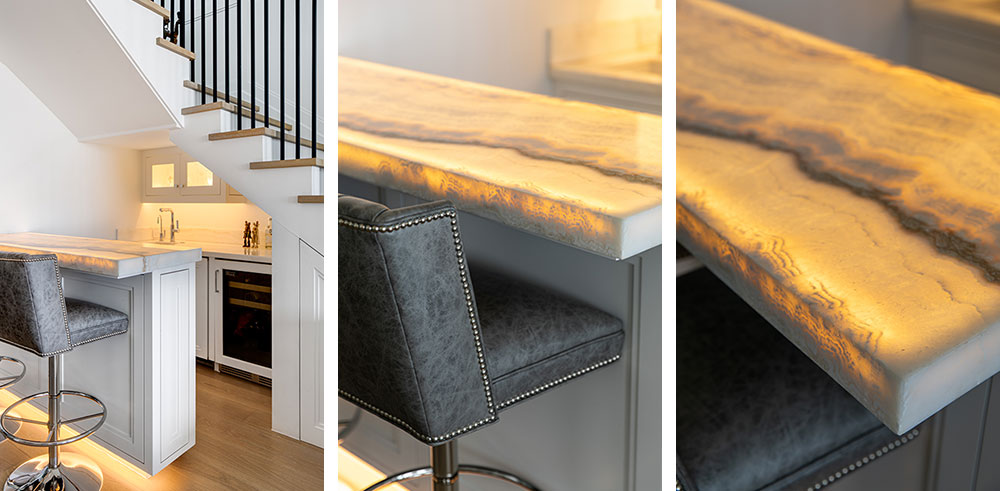 The bar also comes with countertops made of ivory onyx. This translucent stone allowed us to achieve another item on our client's wish list – illuminated countertops. This illumination is not only beautiful but functional as well – it makes quite a statement when entertaining and brightens what could have otherwise been a dark space.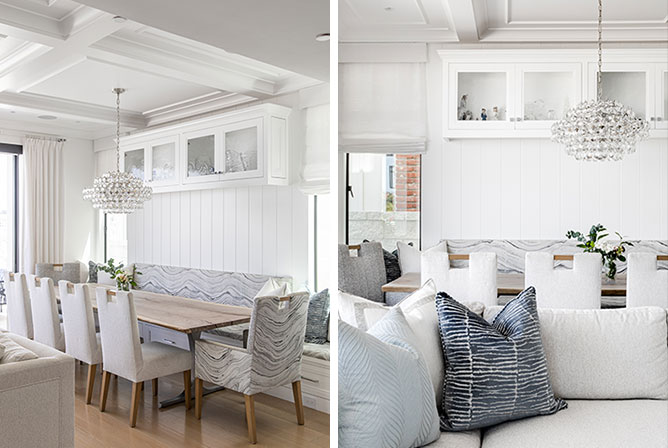 Across the room is the built-in dining banquette. Storage was incorporated beneath the bench seating to allow our clients to store additional items for entertaining.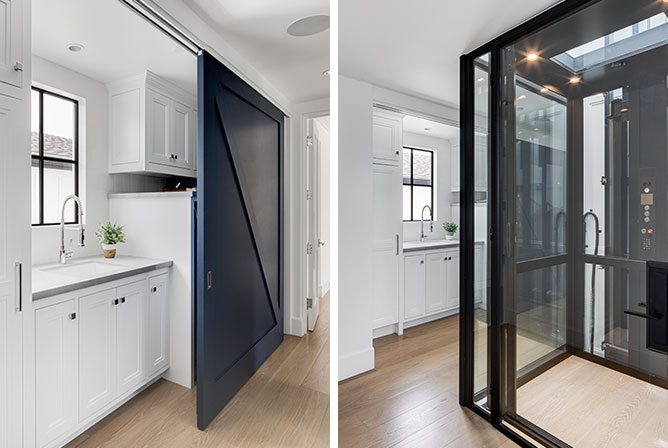 Heading up the stairs to the second floor you'll find the laundry "room" which was another space-saving idea our clients had in order to maximize the floor plan for the rest of the house. By widening the hallway to allow for a washing machine, dryer, sink, and cabinets, this "room" is more of a long  hallway and easily tucks away behind two custom-made, sliding barn doors when not in use. By creating a hallway that doubles as part of the laundry room our clients had more room for other features in the home, such as the all-glass elevator which is directly across from the laundry room.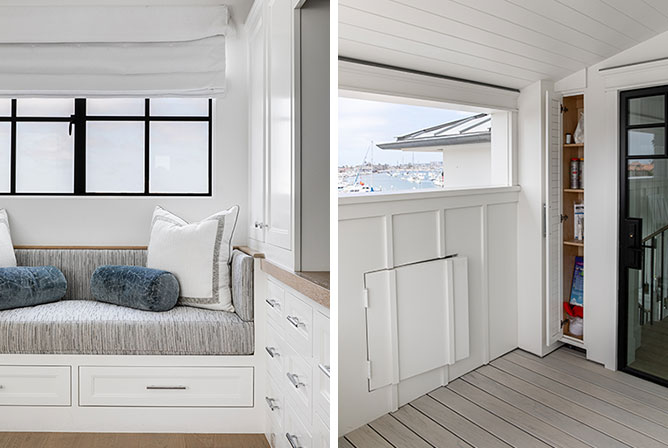 Taking the elevator or stairs to the third floor, more space-saving ideas await. Built-in bench seating comes with storage for pillows and blankets beneath the cushion, and the home's roof deck not only comes with a jacuzzi and an outdoor bar but also the narrowest cabinet we have ever built! During construction our clients noticed a 6" notch in the framing next to the doorway while the home was under construction, and instead of covering this pocket with exterior siding material we worked with our client and had a narrow cabinet door custom-built to fit this space. Although only a few inches wide, the floor-to-ceiling cabinet allows our clients just enough space for storing smaller items such as the spa's cleaning products and their bottles of sunscreen. A push latch door was installed on the adjacent pony wall for storing extra spa equipment as well.
Want to see more of this contemporary, waterfront home? Take the full tour here!