Founder and President
of Patterson Custom Homes
Andrew Patterson
Founder and President of Patterson Custom Homes
Born and raised in the San Francisco Bay Area, Andrew has spent his career involved in all aspects of construction and real estate development. As the technology sector flourished around him, Andrew began working for Rudolf and Sletten, a commercial builder of clean room manufacturing plants and office buildings.
Andrew quickly transitioned from the field to working with upper management in the job site trailers. It was there that he gained a basic understanding of the complexities of the construction industry.
Andrew received a Bachelor of Science degree in Construction Management and a minor in Real Estate Finance from Colorado State University. While in college, he became a licensed Real Estate Agent and spent three years selling residential homes to help finance his education.
After graduation, Andrew moved back to San Francisco where he was employed by Clark Construction as a Senior Project Engineer working on the San Francisco Civic Center project. As the "dot-com" era and the housing market erupted in Silicon Valley, Andrew became certified as a California Real Estate Broker.
After the completion of the Civic Center project, Andrew joined Grosvenor International, a global developer of residential and industrial properties. There he was able to combine his construction knowledge with his passion for real estate and development.
While working on commercial tenant improvement projects and negotiating leases, Andrew learned about the inner workings of the real estate entitlement process. When the "dot-com" era drew to a close and the real estate market all but disappeared, Andrew followed the residential housing boom to Southern California.
During the past eighteen years, with his positive attitude and boundless energy Andrew has grown Patterson Construction Corporation (now Patterson Custom Homes) to become the largest independent builder of custom homes in Orange County.
Heather Beedy
Operations Manager
Heather was born and raised in San Diego, California and moved to Orange County in 2006 to study at California State University, Long Beach.
She joined Patterson Custom Homes as the Office Administrator in February 2013 and then moved on to develop the Project Coordinator position. Heather now serves as the Operations Manager where she supervises the daily operations at Patterson Custom Homes and works to continuously improve the efficiency of each department.
Heather also oversees all aspects of each project's build and is responsible for developing and monitoring each project's milestone and decision schedule. She works with the Project Managers and Project Coordinators to ensure the decision schedules are being adhered to and also tracks the progress of each build to make sure they are being completed on time and to the Patterson standard. She attends weekly site meetings to stay up-to-date on decisions related to design and scope of work, as well as to manage and monitor the overall project status and quality.
Director of Marketing / Client Relations
/ Acquisitions
Brittany Ullestad
Director of Marketing / Client Relations / Acquisitions
Prior to joining the team at Patterson Custom Homes, Brittany served as the Director of Business Operations, Sales, Marketing, and Public Relations for two well-known performing arts companies in Southern California. In these positions, she oversaw financial operations, human resources including the hiring and training of personnel, strategic marketing, sales and new product development, public relations, website creation and design and special event planning.
A native Midwesterner, Brittany moved to California on a full-ride university performing arts scholarship where she graduated summa cum laude. Upon graduation, she performed as a professional dancer both locally and touring nationally.
In her role with Patterson Custom Homes, Brittany manages the front-end aspect of the building process, working with architects, consultants and engineers to facilitate a smooth start to the project. Additionally, she manages public relations and marketing, as well as the facilitation and coordination of the Warranty and Custom Home Care programs. A licensed REALTOR®, she also oversees the real estate and investment related aspects of the company, including acquisitions and development.
Director of Project Coordination
Kellie Conrad
Director of Project Coordination
Kellie was born and raised in Columbus, Ohio where her passion for creating homes started at a young age as she was constantly tearing apart her parents' home and starting new renovation projects. She went on to study fashion retail and design at The Ohio State University.
While in school she worked at Terri Coratola Interior Design as a design assistant, where she worked on the renovation and design of two hotels, numerous office buildings, restaurants and family homes. In this role, she was able to gain hands on experience in all facets of interior design: from construction, to invoicing, to furniture selection. After graduation, Kellie went on to work at Trove Warehouse in Columbus, Ohio where she served as an independent designer and became very familiar with various furniture and accessories companies.
Looking to further her skillset and knowledge of the design-build industry, she joined Patterson Custom Homes where she serves as Project Coordinator and is responsible for ensuring a smooth build by making sure the homeowners, designers, and project managers are all on the same page in terms of finish detail and design selections. Kellie's attention to detail and strong organizational and communication skills ensure a seamless build experience for our clients.
Lisa Creek
Controller
Lisa was born and raised in San Diego, California. Her father was an Attorney as well as a Developer, and as a result, Lisa literally grew up on construction sites. Lisa graduated from the University of California at San Diego in 1983. After 20+ years of construction accounting, Lisa joined the Patterson team. She comes with a wealth of experience that enables her to fully support the Patterson team.
In her role as Controller, she provides clients with detailed monthly billings with interactive client spreadsheets to ensure our clients always know where they stand budget-wise. Throughout the build, she maintains all subcontractor invoices, of which we have an open-book policy for our clients' review. She attaches mechanic lien releases to all billings, coordinates with banks and construction lenders, and prepares all of Patterson's own vouchers and payment requests.
Outside of the office, Lisa enjoys spending time with her husband of twenty-eight years, Dave, and their three beautiful children, Michelle, Jennifer, and Natalie, and her grandchildren.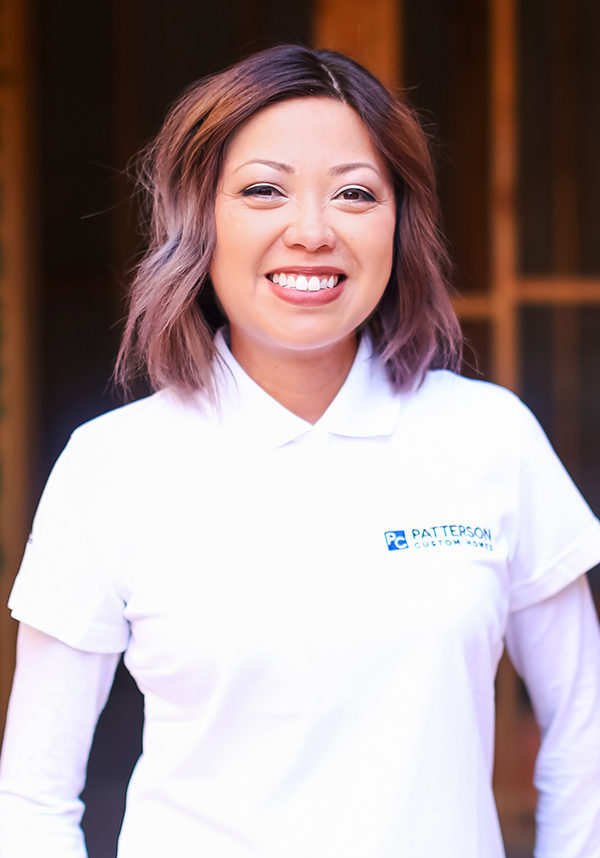 Christine Garcia
Office Administrator
Born and raised in Southern California, Christine has always been involved in the construction industry in one way or another. Upon graduation from high school, she worked for a steel company where she learned the ins and outs of the field.
In addition to ensuring the office runs smoothly on a day to day basis in her role as Office Administrator and serving as Patterson's very own in-house Notary Public, she also spearheads the collection and compilation of many important documents throughout a project's build.
She is charged with creating a comprehensive close-out package given to clients upon move-in which consists of copies of all invoices, releases, warranties, subcontractor contracts, subcontractor insurance, a complete binder with all appliance and equipment manuals, copies of all city documents, 2-year equipment and mechanical system warranty, 5-year deck waterproofing warranty, and 10-year structural warranty.
She also tracks all of the preliminary notices and lien releases and also ensures the subcontractors/vendors meet the necessary requirements in terms of insurance and licenses in order to work with Patterson Custom Homes.
Justine Silva
Project Coordinator
Justine is a Boston transplant who left the East Coast in search of new opportunities and better weather. She attended Massachusetts College of Art and Design where she earned a Bachelor of Fine Arts degree. Prior to working at Patterson Custom Homes, she worked for a high-end retailer as a Project Coordinator where she spent her days designing, building and transforming interior spaces. She has worked on teams throughout the Northeast, including Newbury Street and Rockefeller Center. Her experience in retail design has left her with exceptional communication skills and the ability to realize and execute any idea into reality.
As a Project Coordinator with Patterson Custom Homes, she manages all stages of the build and works to keep all members of the team working in unison. Justine's attention to detail and her ability to see the entire scope of a project ensure a smooth process from start to finish.
Ruben Mora
Project Manager
Ruben was born and raised in Costa Mesa, California, where he played baseball from T-ball all the way through college. After graduating from San Diego State University with a BA in Geographic Information Systems, he worked with the San Diego Padres in the department of Stadium Operation. After gaining invaluable management experience, he went on to work with Cabo Yachts where he climbed his way up from his position as the assistant to that of Vice President. In this role, he managed all aspects of the business including purchasing, customer service, accounting, and production.
Desiring a change of pace and more of a challenge, Ruben joined Patterson Custom Homes, where he has served as a Project Manager Assistant and Customer Service Coordinator, learning all aspects of the custom home industry, from construction through completion and maintenance, which led to his current position of Project Manager.
In this role, he exceeds clients' expectations by establishing and managing a strict construction-building schedule to produce a product that meets the Patterson Standard, the most stringent in the field. Throughout the process, he maintains an efficient means of communication between third party vendors, as well as clients, to ensure the homebuilding process is comfortable and enjoyable for all parties involved.
Outside of the office, Ruben enjoys spending time with his wife of fifteen years, Michelle, and their three beautiful children, Ashlyn, Makenzie, and Andrew.
Ben Tredwell
Project Manager
Ben was born and raised in Manhattan Beach, California. He developed an appreciation at an early age for home building by working with various part time summer jobs in residential construction. In 2009, Ben graduated from Fresno State with a Bachelor of Science degree in Construction Management. After graduation, Ben worked for a regional civil contractor as an estimator on a wide range of commercial and public works projects. During this period Ben gained invaluable experience in site supervision and engineering coordination. In 2010 Ben was able to apply his knowledge and experience as a Project manager with a national construction management firm specializing in commercial and special use projects in the five to ten million-dollar range.
Ben has a proven track record of performance, understanding the unique aspects of construction. Ben joined Patterson Custom Homes to manage the project budget, schedule and construction quality guidelines on high-end custom residential projects. Ben controls the workflow by maintaining continuity with third party consultants and outside regulatory agents.
Shaun Culler
Project Manager
Shaun Culler was born in Orange County and raised in Ventura County. He attended the University of Oregon where he received a bachelor's degree in political science along with a minor in Spanish. Upon graduation, he entered the field of politics and worked on the legislative staff for two different California Congressman at the US Capitol.
Desiring a change of pace, he took the opportunity to enter the field of land acquisition and development where he worked towards successfully acquiring approval from the city for a multitude of large projects. Looking to delve deeper into the field, Shaun joined the Patterson Custom Homes team where he serves as Project Manager. In this role, he ensures client satisfaction through the management of third-party subcontractors, making sure the construction build schedule is adhered to and the product produced meets the highest possible standard.
Jeff England
Project Manager
Born and raised in Villa Park, California, Jeff joined the Carpenter's Union directly out of high school. After receiving his journeymen's card while working for Kasler Corporation, he began framing homes in the tract industry. In this position, he quickly realized that he gravitated towards management where he had a knack for organization of trades as well as effective communication for the completion of a common goal.
After gaining invaluable experience in the tract industry, he went on to work as an assistant superintendent for RJW Construction, where managed the remodeling and preservation work on many of the original buildings at Tustin and El Toro marine bases.
Switching his focus to the residential arena, Jeff assumed the position of project superintendent for a local developer, building in some of the most premier areas of Southern California. There, he learned the art of custom home building, from design review to quality assurance. Jeff was also able to work with Sheffield Homes where he was fortunate enough to spend twenty-two years helping to grow a successful company and construct over 1,000 homes.
In his role as Project Manager with Patterson Custom Homes, Jeff prides himself on his communication skills, ensuring that all projected completion dates are met and/or exceeded, and his attention to detail, guaranteeing the highest satisfaction from clients. His love for building is evidenced in the relationships he builds and maintains with subcontractors, consultants, designers, and homeowners, alike. The ultimate satisfaction of reaching a finished project is his driving force.
Over and above his building background, he marks his most valuable achievements as his marriage to his wife, Jodi, and being a father to his three children, Steven, Cody, and Lexi.
Donald Dea
Project Manager
Born and raised in Southern California, Donald has over 17 years of construction experience in both custom residential home building and ship building for the United States Navy in San Diego and Orange County, CA.
Donald attended Palomar College and received a diploma in Executive Perspective for Scientists and Engineers and also completed the Project Management Training at Kepner-Tregoe, San Diego, CA.
Donald got his start in custom residential homebuilding in 1999 with AW Property Homes in Rancho Santa Fe, CA as a project superintendent where he worked for over 9 years. He took a sabbatical from home building to pursue an opportunity building ships with General Dynamics/NASSCO as part of the Navy's Ship Management team. There, he deepened his construction and engineering skillset which he translated to the residential custom home building field upon his return in 2006 when he became a California Licensed General Contractor.
Donald continuously works to improve the construction process through seeking continuing education and prides himself on his ability to blend the old-school, detail-oriented style of building with the new technology of today.
Alex Andrade
Project Manager
Born in Mexico, Alex immigrated to Southern California at the age of 6 months old where he was raised and has lived for entire life. As a child, he developed a love for construction and would study work being completed around his neighborhood. He took on various construction jobs while in school where he began to develop his skillset for building.
Upon completion of high school, he decided to go in the medical field and graduated from Loma Linda University. After receiving his diploma, he was presented with the opportunity to work for a custom home builder in Newport Beach, CA and made the decision to pursue a career in the custom home building field. He started as an assistant superintendent and worked is was up to the position of superintendent.
In his role as Project Manager with Patterson Custom Homes, he prides himself on his ability to meet and exceed client expectations by efficiently managing subcontractors, ensuring the build schedule is adhered to and the home is built to the highest standard possible.
Outside of building, he loves spending time with his wife, son and 2 step-children.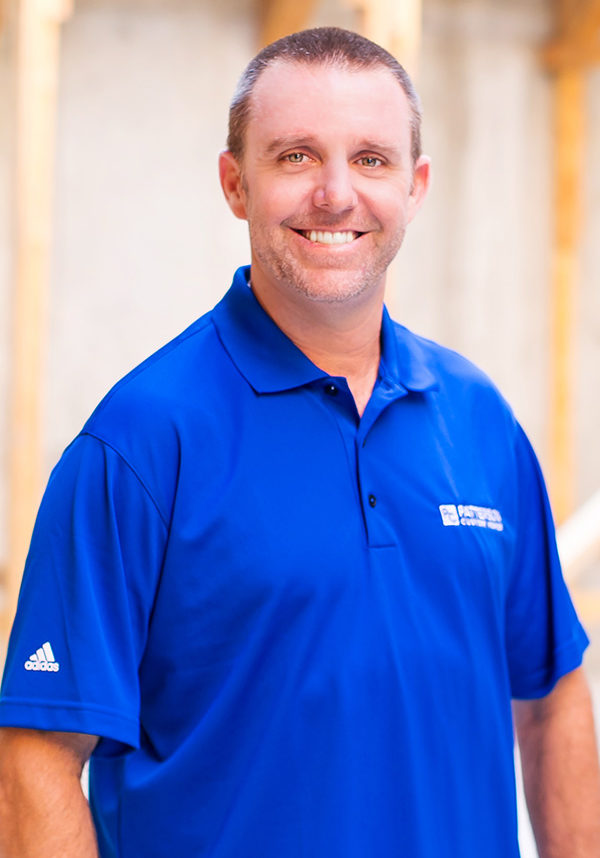 Matt Howard
Project Manager
Matt was born and raised in Orange County, California. He has over 23 years in the custom home building industry.
His senior year in school, he took an apprenticeship program to become a journeyman electrician. Directly out of high school he started working as an electrical contractor for a custom home electrical contractor in Newport Beach. After 6 years he decided he was ready to expand his knowledge of custom home building and began working for an independent contractor in the Newport Beach area. In 2007 he began working for RDM General Contractors as a project manager. He spent 10 years there building some their most prestigious homes. Ready for another challenge, he joined the Patterson Custom Home team.
Matt lives in Mission Viejo with his wife Jessica. They recently had a baby girl Ella. In his free time Matt enjoys riding his dirt bike.
Andrew Meckert
Warranty Service Manager
Andrew was born and raised in Coopersburg, Pennsylvania on his family's 2,200-acre dairy farm where he grew to love the outdoors and working with his hands. Andrew attributes his hard-working attitude and ingenuity to his grandfather, who taught him the value of hard-work performed in a reliable and personable manner. Throughout his teenage years, he apprenticed at his uncle's custom home building company in Ocean City, New Jersey where he acquired a strong construction background.
Andrew received his Bachelor of Science in Energy and Natural Resource Economics from West Virginia University prior to making the move west to joining the Patterson Custom Home's team where he brings a very hands-on dynamic to the team and can always be relied on to get the job done in a clean and professional manor.
Since joining the company, he has been involved in both the construction side as well as the warranty service aspect of the business. As a Corona del Mar resident, he takes extra care to make sure all the new homeowners feel welcomed to the community and well taken care of!
Bob Smith
Custom Care Manager
Bob has been a production manager in Southern California, serving the building industry for over 30 years. His ability to train, develop and lead a strong team toward the common purpose of complete customer satisfaction has been a driving force in his life. He fully understands that a satisfied customer is the ultimate goal in any industry. He has served for 22 of those 30 years with the same company, which is on the New York Stock Exchange, serving contractors nationwide.
Bob became acquainted with Patterson Custom Homes about 10 years ago, providing multiple products and services in the building of their homes. That relationship continued for many successful years and when the opportunity came knocking, Bob joined the Patterson team in a customer service roll to manage Patterson Custom Home Care, a first of its kind, one-stop-shop home maintenance program.
Bob's positive approach backed by a strong team throughout the Patterson company will virtually guarantee that our homeowners will enjoy the comfort and beauty of their well-maintained home for years to come. Bob conducts himself in a professional manner and is committed to earning the respect of those on his team, and those whom he will be serving in his role as a manager. His ability to work toward common goals for successful results comes from his many years in the industry and is a natural fit for this position with Patterson Custom Homes.