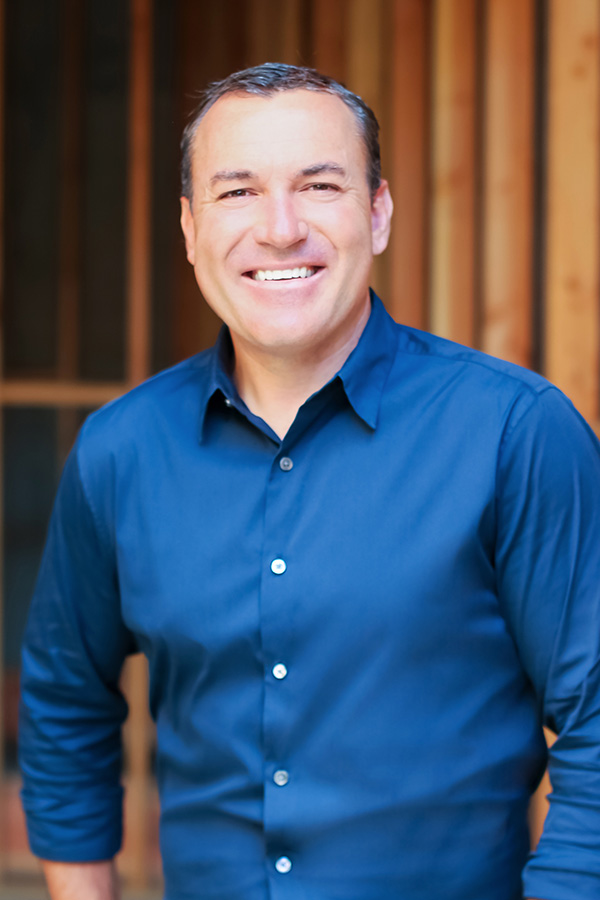 Founder and President
of Patterson Custom Homes
Andrew Patterson
Founder and President of Patterson Custom Homes
Born and raised in the San Francisco Bay Area, Andrew has spent his career involved in all aspects of construction and real estate development. As the technology sector flourished around him, Andrew began working for Rudolf and Sletten, a commercial builder of clean room manufacturing plants and office buildings.
Andrew quickly transitioned from the field to working with upper management in the job site trailers. It was there that he gained a basic understanding of the complexities of the construction industry.
Andrew received a Bachelor of Science degree in Construction Management and a minor in Real Estate Finance from Colorado State University. While in college, he became a licensed Real Estate Agent and spent three years selling residential homes to help finance his education.
After graduation, Andrew moved back to San Francisco where he was employed by Clark Construction as a Senior Project Engineer working on the San Francisco Civic Center project. As the "dot-com" era and the housing market erupted in Silicon Valley, Andrew became certified as a California Real Estate Broker.
After the completion of the Civic Center project, Andrew joined Grosvenor International, a global developer of residential and industrial properties. There he was able to combine his construction knowledge with his passion for real estate and development.
While working on commercial tenant improvement projects and negotiating leases, Andrew learned about the inner workings of the real estate entitlement process. When the "dot-com" era drew to a close and the real estate market all but disappeared, Andrew followed the residential housing boom to Southern California.
During the past eighteen years, with his positive attitude and boundless energy Andrew has grown Patterson Construction Corporation (now Patterson Custom Homes) to become the largest independent builder of custom homes in Orange County.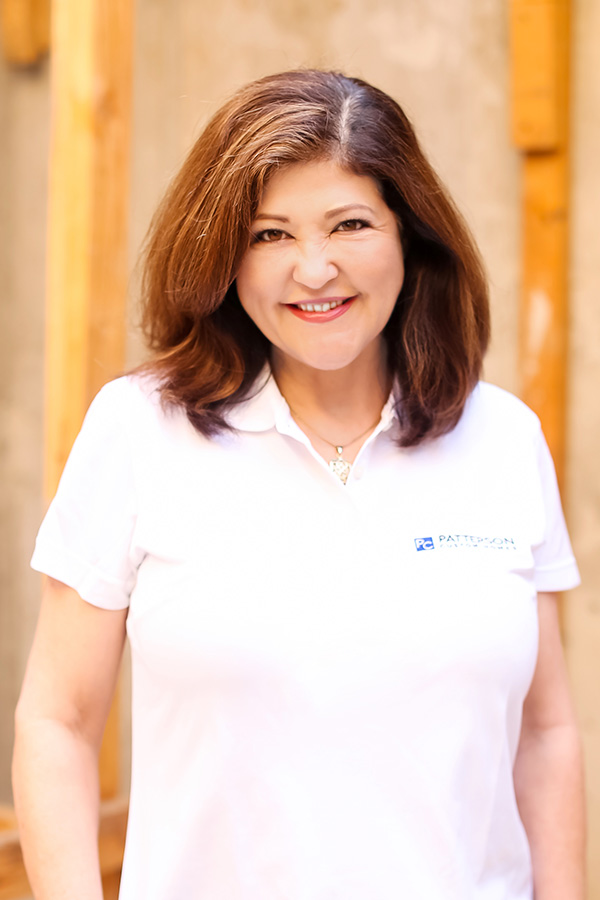 Lisa Creek
Controller
Lisa was born and raised in San Diego, California. Her father was an Attorney as well as a Developer, and as a result, Lisa literally grew up on construction sites. Lisa graduated from the University of California at San Diego in 1983. After 20+ years of construction accounting, Lisa joined the Patterson team. She comes with a wealth of experience that enables her to fully support the Patterson team.
In her role as Controller, she provides clients with detailed monthly billings with interactive client spreadsheets to ensure our clients always know where they stand budget-wise. Throughout the build, she maintains all subcontractor invoices, of which we have an open-book policy for our clients' review. She attaches mechanic lien releases to all billings, coordinates with banks and construction lenders, and prepares all of Patterson's own vouchers and payment requests.
Outside of the office, Lisa enjoys spending time with her husband of twenty-eight years, Dave, and their three beautiful children, Michelle, Jennifer, and Natalie, and her grandchildren.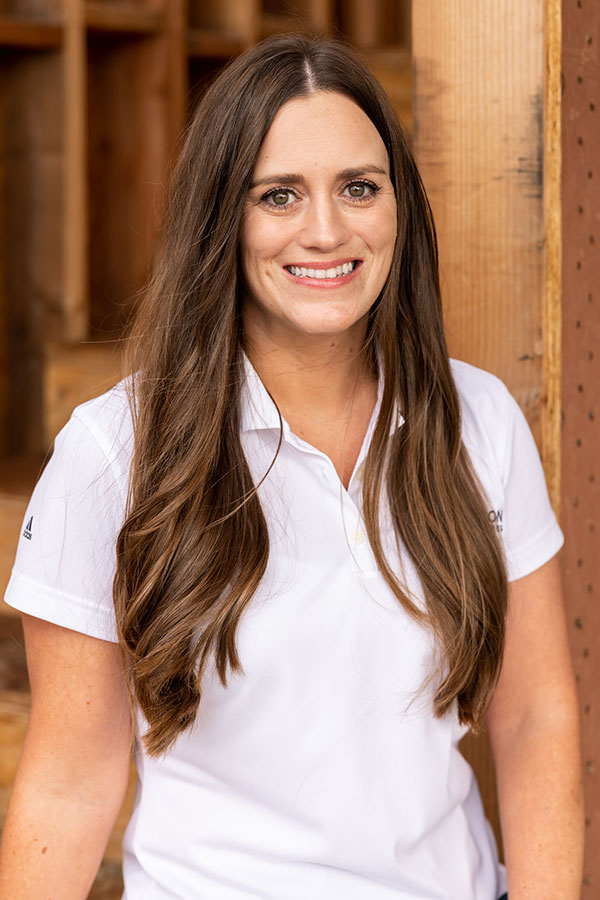 Heather Beedy
Operations Manager
Heather was born and raised in San Diego, California and moved to Orange County in 2006 to study at California State University, Long Beach.
She joined Patterson Custom Homes as the Office Administrator in February 2013 and then moved on to develop the Project Coordinator position. Heather now serves as the Operations Manager where she supervises the daily operations at Patterson Custom Homes and works to continuously improve the efficiency of each department.
Heather also oversees all aspects of each project's build and is responsible for developing and monitoring each project's milestone and decision schedule. She works with the Project Managers and Project Coordinators to ensure the decision schedules are being adhered to and also tracks the progress of each build to make sure they are being completed on time and to the Patterson standard. She attends weekly site meetings to stay up-to-date on decisions related to design and scope of work, as well as to manage and monitor the overall project status and quality.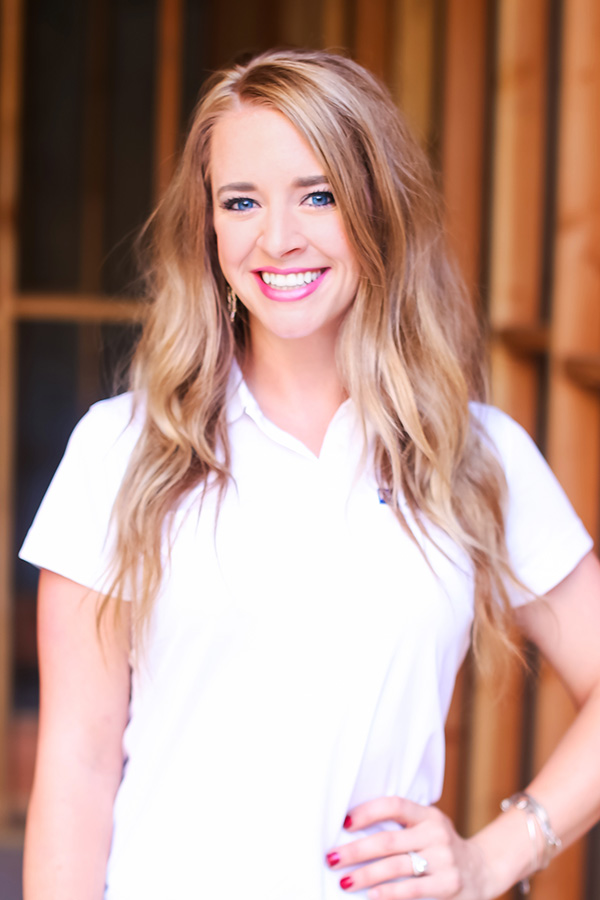 Director of Marketing / Client Relations
/ Acquisitions
Brittany Newman
Director of Marketing / Client Relations / Acquisitions
Prior to joining the team at Patterson Custom Homes, Brittany served as the Director of Business Operations, Sales, Marketing, and Public Relations for two well-known performing arts companies in Southern California. In these positions, she oversaw financial operations, human resources including the hiring and training of personnel, strategic marketing, sales and new product development, public relations, website creation and design and special event planning.
A native Midwesterner, Brittany moved to California on a full-ride university performing arts scholarship where she graduated summa cum laude. Upon graduation, she performed as a professional dancer both locally and touring nationally.
In her role with Patterson Custom Homes, Brittany manages the front-end aspect of the building process, working with architects, consultants and engineers to facilitate a smooth start to the project. Additionally, she manages public relations and marketing, as well as the facilitation and coordination of the Warranty and Custom Home Care programs. A licensed REALTOR®, she also oversees the real estate and investment related aspects of the company, including acquisitions and development.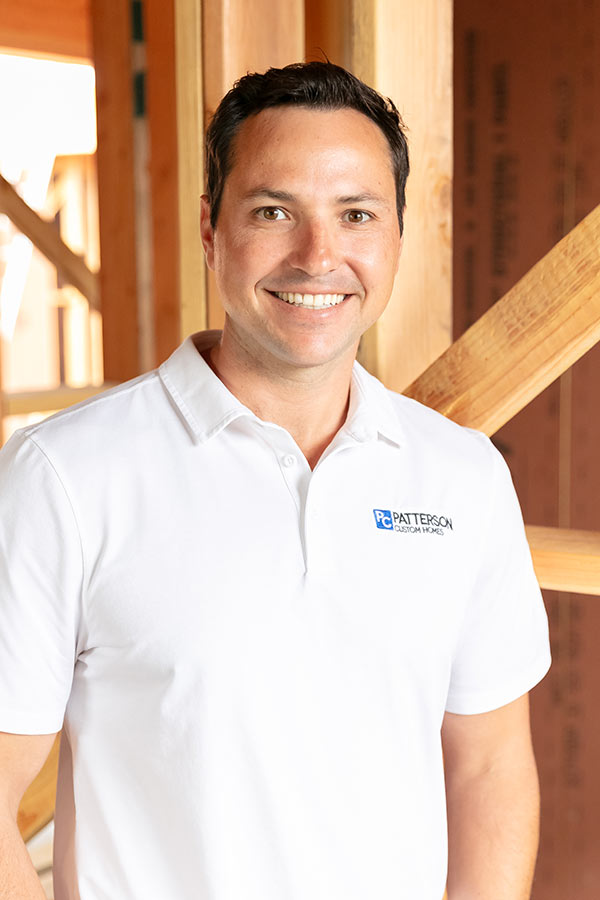 Director of Project Management
Ben Tredwell
Director of Project Management
Ben was born and raised in Manhattan Beach, California. He developed an appreciation at an early age for home building by working with various part time summer jobs in residential construction. In 2009, Ben graduated from Fresno State with a Bachelor of Science degree in Construction Management. After graduation, Ben worked for a regional civil contractor as an estimator on a wide range of commercial and public works projects. During this period Ben gained invaluable experience in site supervision and engineering coordination. In 2010 Ben was able to apply his knowledge and experience as a Project manager with a national construction management firm specializing in commercial and special use projects in the five to ten million-dollar range.
Ben has a proven track record of performance, understanding the unique aspects of construction. Ben joined Patterson Custom Homes to manage the project budget, schedule and construction quality guidelines on high-end custom residential projects. Ben controls the workflow by maintaining continuity with third party consultants and outside regulatory agents.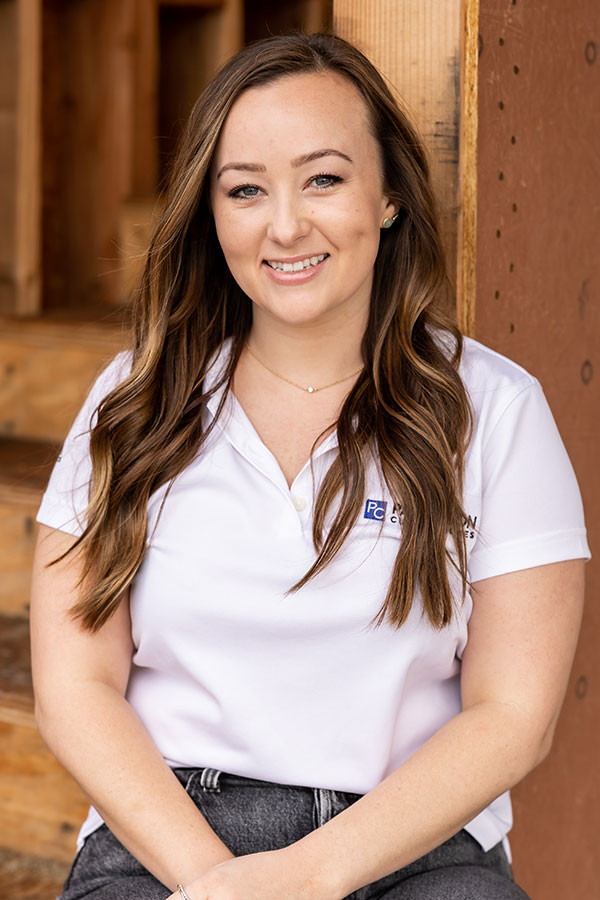 Director of Project Coordination
Jessica Cota
Director of Project Coordination
Jessica is an Orange County native, born and raised just down the road in Costa Mesa, CA, and graduated with Honors from the University of California, Irvine in 2016.
Jessica was initially drawn to the construction industry when she began her career working for a national homebuilder in their design department. From there she went on to join the management team for a large real estate developer, property management company, and homebuilder in the area. In her role she coordinated construction project details and oversaw customer service, exceling at customer satisfaction.
As the Director of Project Coordination at Patterson Custom Homes, Jessica is responsible for overseeing our team of project coordinators and ensuring a smooth build for each of our projects by making sure the homeowners, designers, and project managers are all in agreement on finish detail and design selections. She brings her strong customer service skills, design experience, and knack for management and best practices to the role, and enjoys coordinating the myriad of details involved in custom home building in order to help bring our clients' dream homes to life.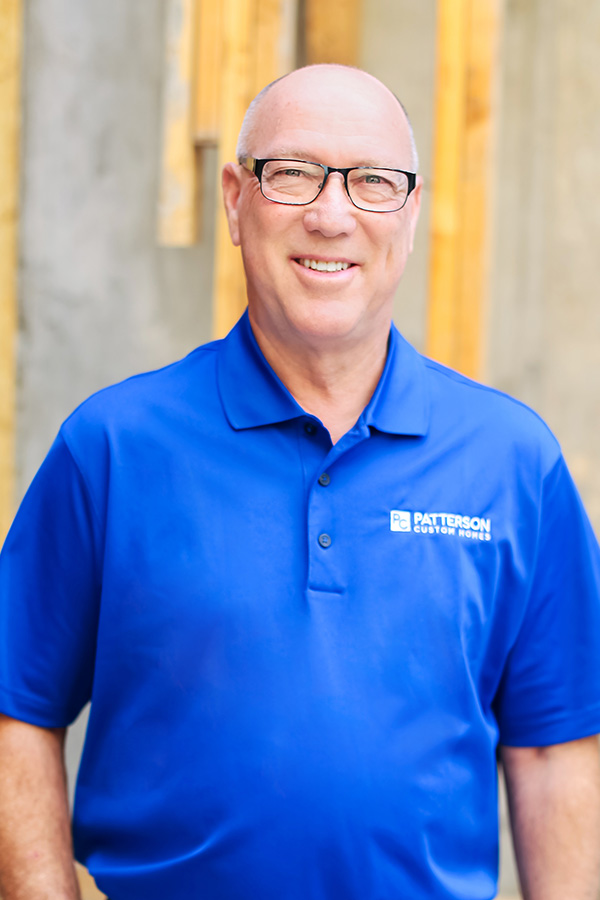 Bob Smith
Custom Care Manager
Bob has been a production manager in Southern California, serving the building industry for over 30 years. His ability to train, develop and lead a strong team toward the common purpose of complete customer satisfaction has been a driving force in his life. He fully understands that a satisfied customer is the ultimate goal in any industry. He has served for 22 of those 30 years with the same company, which is on the New York Stock Exchange, serving contractors nationwide.
Bob became acquainted with Patterson Custom Homes about 10 years ago, providing multiple products and services in the building of their homes. That relationship continued for many successful years and when the opportunity came knocking, Bob joined the Patterson team in a customer service roll to manage Patterson Custom Home Care, a first of its kind, one-stop-shop home maintenance program.
Bob's positive approach backed by a strong team throughout the Patterson company will virtually guarantee that our homeowners will enjoy the comfort and beauty of their well-maintained home for years to come. Bob conducts himself in a professional manner and is committed to earning the respect of those on his team, and those whom he will be serving in his role as a manager. His ability to work toward common goals for successful results comes from his many years in the industry and is a natural fit for this position with Patterson Custom Homes.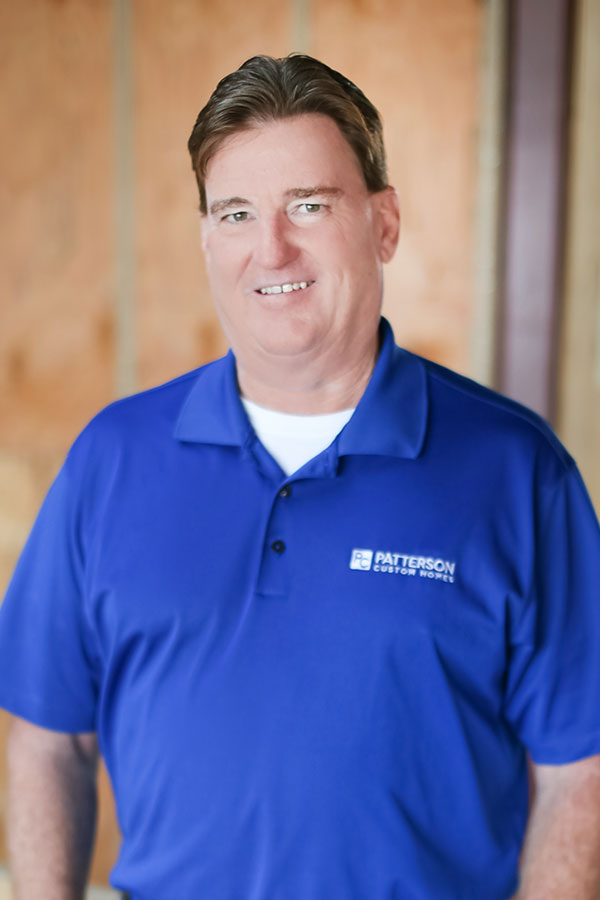 Tim Bissell
Warranty Service Manager
Tim was born in Germany while his father was stationed there with the United States Army. His service brought their family back to the US and Tim lived in many different states growing up, but ultimately settled in Orange County, California. After two years at Saddleback College, Tim entered the new home construction industry. Tim joined the Carpenters Union and became a Foreman & Safety Manager at Paragon/Schmid Building Products with 85 employees, and for 12 years at Paragon/Schmid Tim worked closely with all the new home builders in Orange County. Tim then joined Standard Pacific Homes as a Customer Care Manager, where he was responsible for responding to new home warranty and buyer satisfaction issues for Standard Pacific's clients for eight years
Tim's biggest achievement of his career happened in 2007 while he was at Standard Pacific Homes, where he became the highest-rated Customer Care Manager in the company based on JD Powers' new home buyer surveys. From there, Tim joined up with friends and investors and began flipping homes, and their small team of four flipped more than 200 homes in Orange County. Tim loved making old homes new again and making families' dreams of home ownership come true.
Looking for a new challenge, Tim joined the Patterson Custom Homes' team where he assists post-completion with our full-coverage warranty side of the business. Managing subcontractors and working alongside designers and architects, Tim enjoys working with a team to ensure issues are resolved and our clients are satisfied so that our custom homes last for generations to come.
Emily Penner
Project Coordinator
Emily was born and raised in Lake Forest, CA and has always had an interest in home building and home design. She earned her bachelor's degree from The Master's University in 2017, and following graduation began an internship with an established interior designer in coastal Orange County. From there, Emily took a position as a Junior Designer with a regional home builder where she was responsible for working with design materials and coordinating the implementation of project details. As a Project Coordinator Emily brings her eye for design, customer-focused mindset, and can-do attitude to the team and is responsible for coordinating the myriad of details involved in each custom home. Outside of work, Emily enjoys spending time with her friends and family and camping with her husband.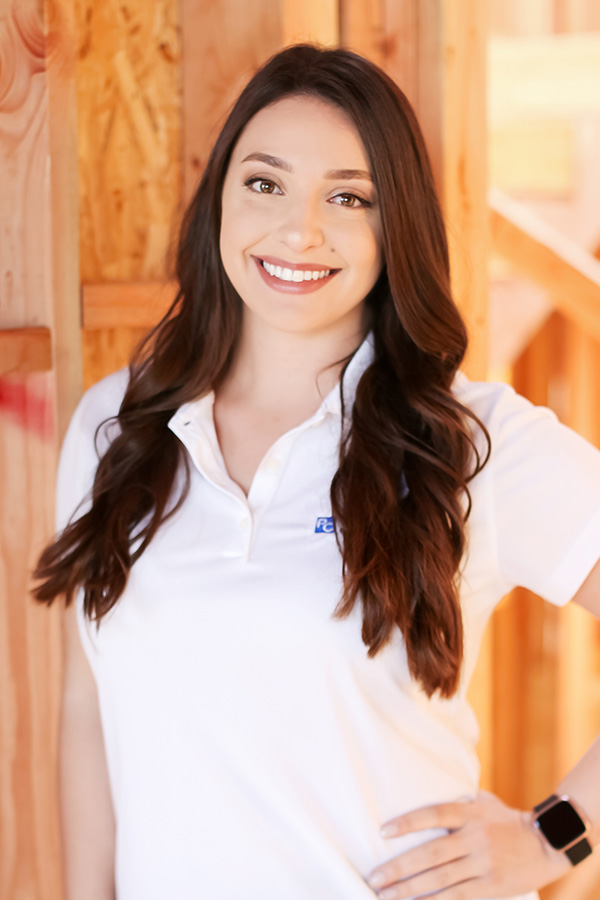 Pre-Construction Coordinator
Angela Coutsoyannopoulos
Pre-Construction Coordinator
Angela comes to Patterson Custom Homes with a strong background in customer service and administrative support, having worked in the commercial real estate industry and most recently, as a flight attendant for a major commercial airline. With her experience in real estate, passion for assisting customers, and her enthusiasm and positivity Angela looks forward to assisting Patterson Custom Home homeowners throughout the build.
Angela was born and raised in Huntington Beach, California and lived in Spokane, Washington during her time as a flight attendant. Outside of the office, Angela enjoys visiting Disneyland, cooking, and spending time with friends and family.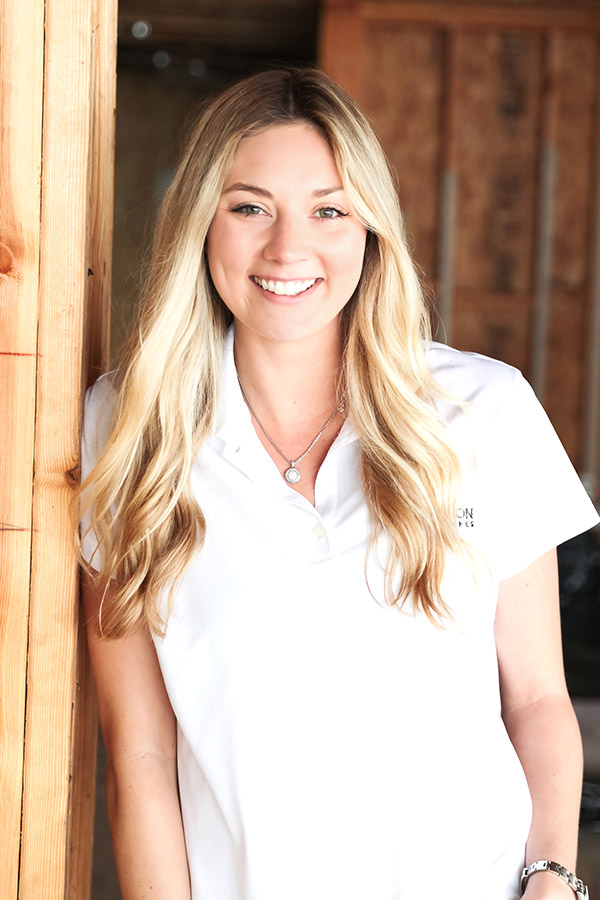 Senior Project Coordinator
Savannah Horn
Senior Project Coordinator
Savannah was born and raised in Norman, Oklahoma and took an interest in the construction industry from a very early age. In an attempt to be just like her builder/developer dad, she began drawing plans for her dream home and would show them to anyone whose attention she could garner. She knew she would be destined to work in the homebuilding industry later in life.
Her passion continued through school and after graduating from the University of Oklahoma with a Bachelor's degree in Business Administration in Marketing, she began her career with a local developer/home builder and learned all she could about the industry. From there she was given the opportunity to build homes alongside her parents, where she gained practical, hands-on experience and continued to expand her skill set.
Wanting to combine a career in construction with her love for the beach and warmer weather, Savannah found her way to Patterson Custom Homes in Newport Beach, CA. As a project coordinator on the team, Savannah is responsible for coordinating the myriad of details that go into every Patterson Custom Home. With her knowledge about the industry paired with her experience in customer service, Savannah also uses her organizational skills and her team-player mentality to ensure our homeowners enjoy the construction process from start to finish and beyond.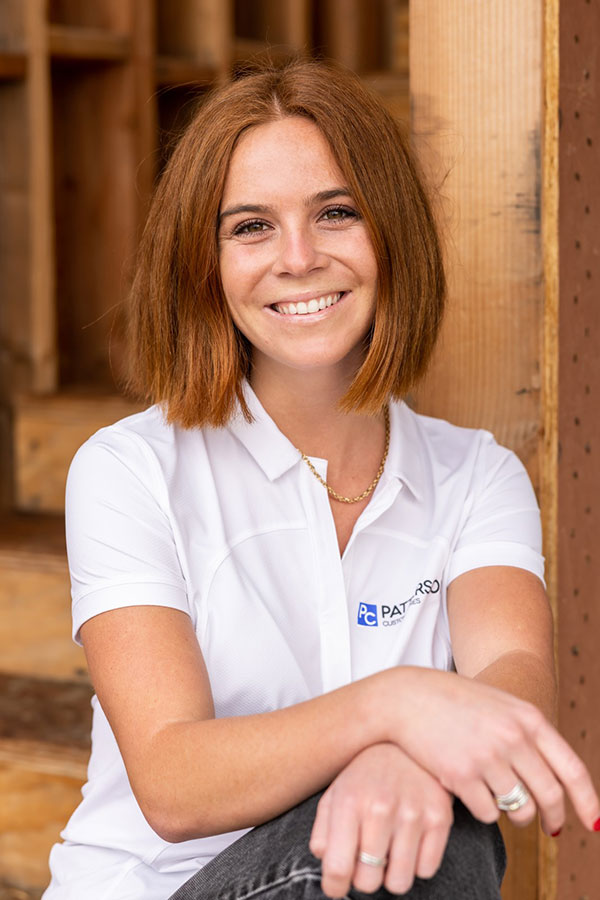 Fiona Palitz
Project Coordinator
Fiona was born and raised in Newport Beach, CA, where she was introduced to luxury real estate and custom home building at a young age. Having always been surrounded by friends and family in the business, she knew she would follow a similar path. Fueled by her passion for understanding the nuances of home design, she considers herself a 'forever student,' eager to both build on her academic foundations in real estate and design and stay in tune with the latest project strategies. In 2022, shortly after graduating from the University of San Francisco, with a bachelor's degree in advertising, she became a licensed real estate salesperson in the State of California. In 2021, Fiona began working for Paige Elise Interior Design in Costa Mesa. There, she met with clients to establish decor needs and gained an understanding of the basics of home design and project coordination, while working in a dynamic environment. Fiona's professional career has prepared her to adapt to fluid situations, scale the learning curve quickly, and leverage resources effectively to add value to the Patterson team.
Outside of the office, Fiona enjoys spending time with friends and family, eating, traveling, playing pickleball, walking, and almost any outdoor activity.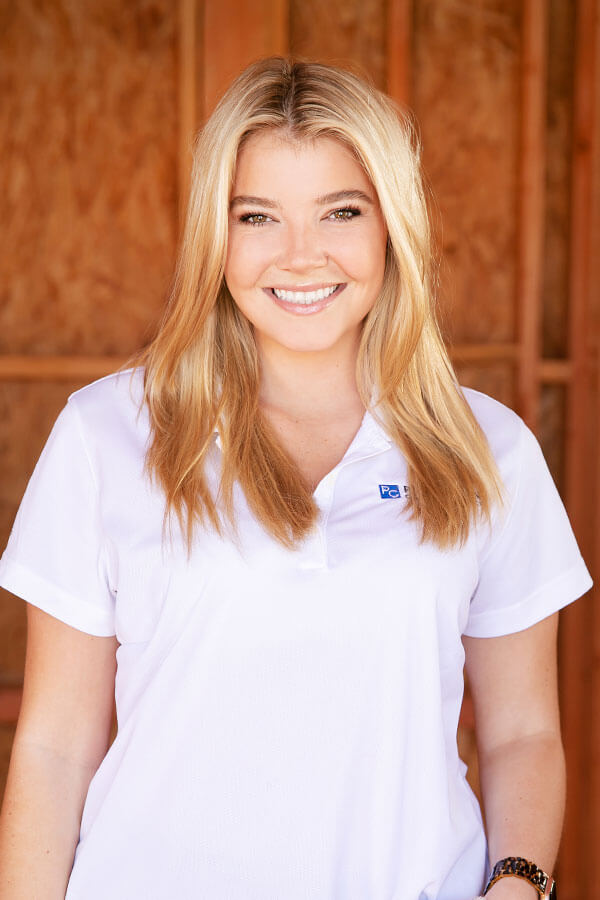 Project Development Coordinator
Hannah Strohl
Project Development Coordinator
Hannah Strohl was born in the Chicago area but grew up in Orange County, CA. After receiving her Bachelor of Science degree in Sociology and Minor in Media Studies from Loyola Marymount University, Hannah began her career as a project coordinator for an event production company in Newport Beach, CA. Her experience in event planning helped mold her organizational and communication skills, as she was required to coordinate the details of many events per year. The majority of the events were charity galas, and Hannah can proudly say her work as the coordinator of these events assisted in raising over $10 million for local non-profit organizations.
Having always been surrounded by family and friends in the real estate industry, Hannah decided she wanted to move in a similar direction. That led her to become an employee for one of the leading single-family home rental companies that manages over 30,000 units. Working in the human resources department during the 2020 global pandemic, she took on the role of researching government guidelines in the 12 different states the offices were located and built office roadmaps to ensure each was in compliance with local ordinances. Looking for an opportunity to utilize her love for logistics and coordination, she found the Pre-Construction Coordinator position at Patterson Custom Homes. Hannah utilizes her organizational skills to assist our Project Coordinators during the pre-construction phase for all our projects.
When away from work, Hannah enjoys going for a spontaneous Duffy ride around the harbor and taking walks along Lookout Point in Corona Del Mar with her dog, Teddy.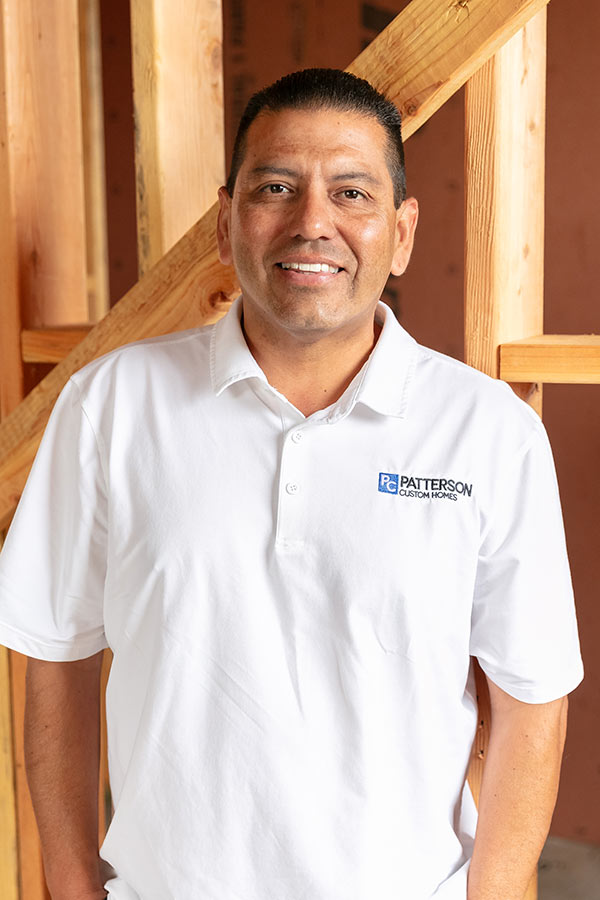 Alex Andrade
Project Manager
Born in Mexico, Alex immigrated to Southern California at the age of 6 months old where he was raised and has lived for entire life. As a child, he developed a love for construction and would study work being completed around his neighborhood. He took on various construction jobs while in school where he began to develop his skillset for building.
Upon completion of high school, he decided to go in the medical field and graduated from Loma Linda University. After receiving his diploma, he was presented with the opportunity to work for a custom home builder in Newport Beach, CA and made the decision to pursue a career in the custom home building field. He started as an assistant superintendent and worked is was up to the position of superintendent.
In his role as Project Manager with Patterson Custom Homes, he prides himself on his ability to meet and exceed client expectations by efficiently managing subcontractors, ensuring the build schedule is adhered to and the home is built to the highest standard possible.
Outside of building, he loves spending time with his wife, son and 2 step-children.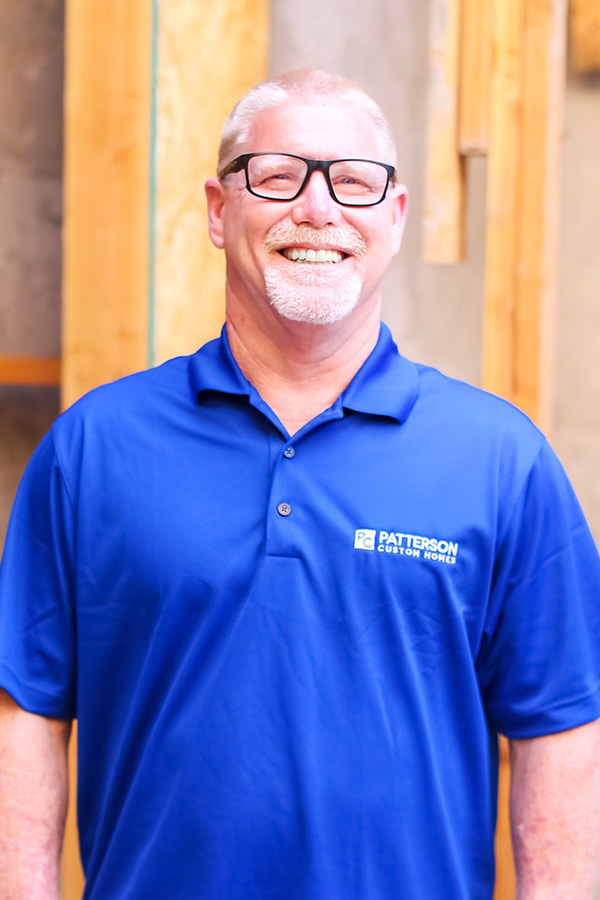 Jeff England
Project Manager
Born and raised in Villa Park, California, Jeff joined the Carpenter's Union directly out of high school. After receiving his journeymen's card while working for Kasler Corporation, he began framing homes in the tract industry. In this position, he quickly realized that he gravitated towards management where he had a knack for organization of trades as well as effective communication for the completion of a common goal.
After gaining invaluable experience in the tract industry, he went on to work as an assistant superintendent for RJW Construction, where managed the remodeling and preservation work on many of the original buildings at Tustin and El Toro marine bases.
Switching his focus to the residential arena, Jeff assumed the position of project superintendent for a local developer, building in some of the most premier areas of Southern California. There, he learned the art of custom home building, from design review to quality assurance. Jeff was also able to work with Sheffield Homes where he was fortunate enough to spend twenty-two years helping to grow a successful company and construct over 1,000 homes.
In his role as Project Manager with Patterson Custom Homes, Jeff prides himself on his communication skills, ensuring that all projected completion dates are met and/or exceeded, and his attention to detail, guaranteeing the highest satisfaction from clients. His love for building is evidenced in the relationships he builds and maintains with subcontractors, consultants, designers, and homeowners, alike. The ultimate satisfaction of reaching a finished project is his driving force.
Over and above his building background, he marks his most valuable achievements as his marriage to his wife, Jodi, and being a father to his three children, Steven, Cody, and Lexi.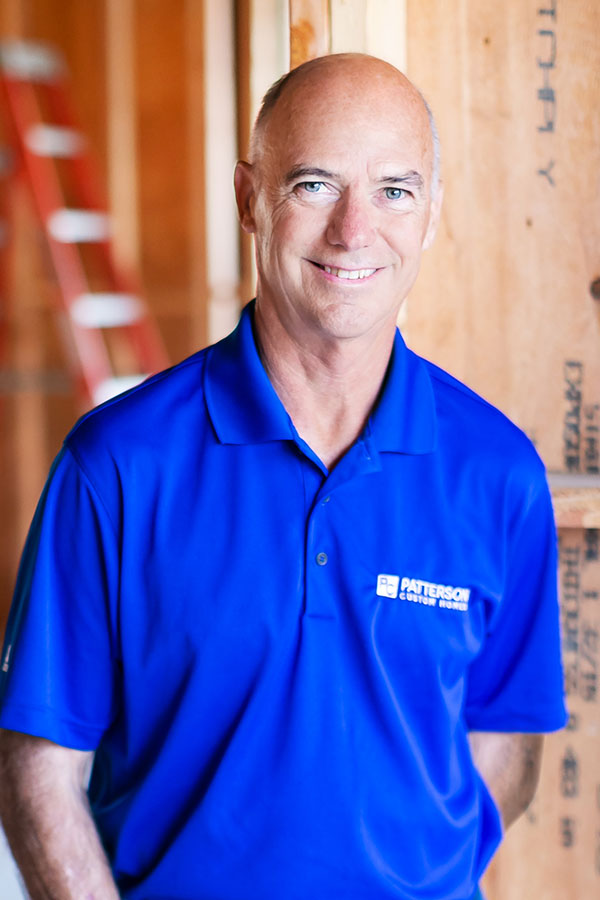 Fritz Hellstern
Project Manager
Fritz was born and raised in Pittsburgh, PA, and has spent his entire 40+ year career in the construction industry. His passion for woodworking and the building industry began right after high school when he started his first job in a lumber yard. From there, Fritz transitioned and took a position with Warmington Development as a rough carpentry framer, and after eight years transitioned into finish carpentry.
Given his experience and skill set, Fritz decided to start his own finish carpentry business for high-end custom homes and owned this business for 10 years. In 1995, one of his clients approached him with an opportunity to become a construction supervisor for Century Corporation. After much consideration, Fritz agreed, and remained with Century for 19 years in this position. In 2013 Fritz left Century and went to work for another builder at the Strand in Dana Point, and has since joined Patterson Custom Homes as a Project Manager, overseeing the construction of our high-end custom homes in Newport Beach, CA.
Fritz has four grown children that he is very close with. His passion for the industry extends beyond his professional career, and for the past 17 years he has enjoyed volunteering his time to help build homes in Mexico for the homeless.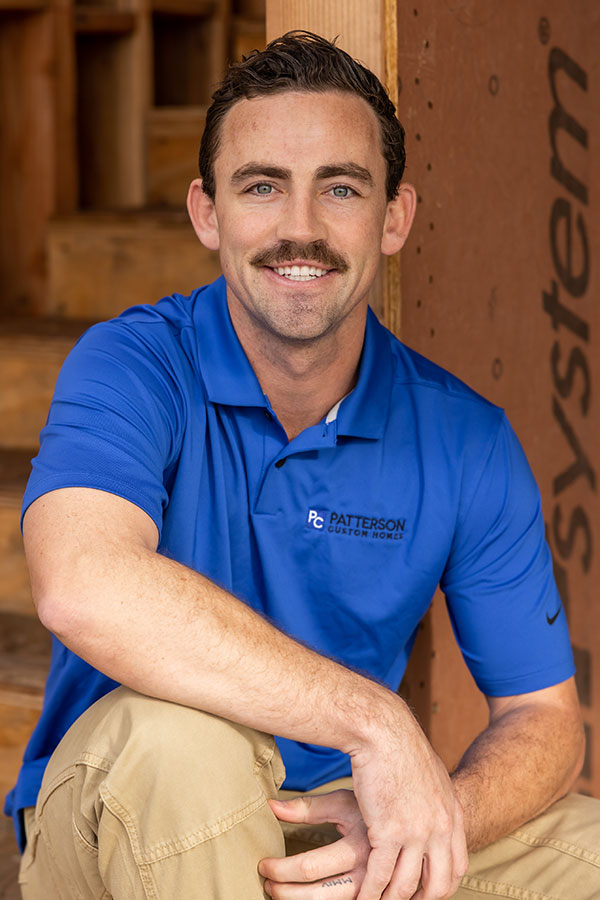 Tim Root
Project Manager
While growing up in Orange County, Tim was exposed to construction from a young age with his family and found a passion for the industry. It was this motivation that led to him to pursue a career in custom home building, and after graduating from TCU in Texas, Tim moved back to California to begin his career.
As an Assistant Project Manager for Patterson Custom Homes, Tim is involved in multiple stages of the building process so that all construction details are executed seamlessly. It is Tim's top priority to go above and beyond for our homeowners and ensure all items are well taken care of during the process.
Tim lives locally in the area and enjoys spending time with family and friends at the beach and on the golf course. Tim looks forward to developing new relationships with Patterson clients and growing within the company.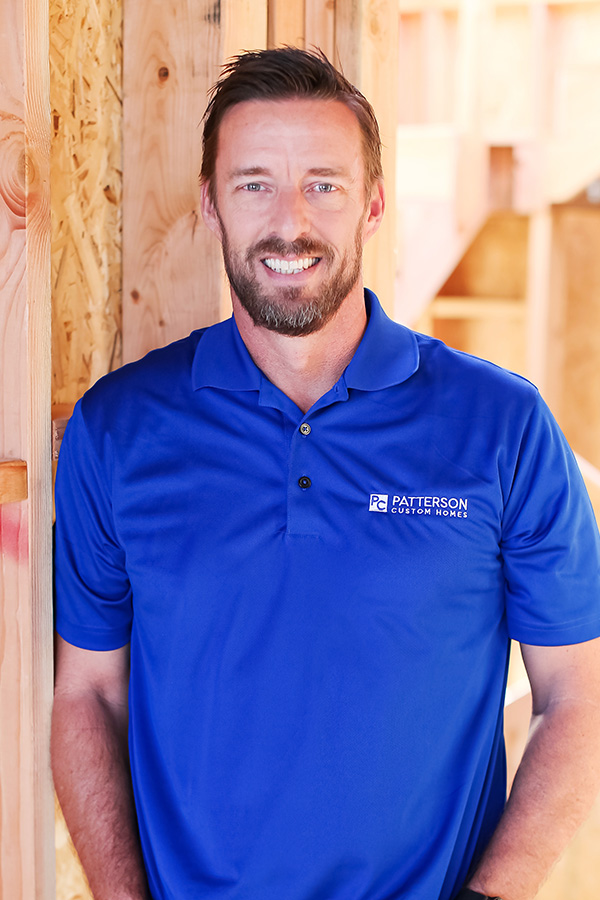 Bill Hyland
Project Manager
Born and raised in Huntington Beach, California, Bill joins the Patterson team with more than twenty-three years of construction experience. A local graduate from Orange Coast College, Bill went straight into the construction industry following graduation. Starting off as a foreman for a local contractor, Bill quickly grew his career to become a superintendent and eventually an independent business owner. While residential builds are his favorite, Bill brings a fresh perspective to the home building industry after completing commercial builds for well-known retail brands.
Bill enjoys spending quality time with his wife and four children and enjoys traveling the world whenever possible. Bill is excited to join the team and continue to help push the Patterson standard – The New Standard – forward.
Ty Holmes
Project Manager
From an early age Ty had an interest in building design and chose to pursue a career that would utilize and inspire that skill. He received his Bachelor of Science degree in Construction Management from Brigham Young University in Utah and has gained hands-on experience from previous internships in real estate, construction, and interior design.
With a broad perspective of the home building process, Ty recently joined the Patterson Custom Homes' team with an enthusiasm for custom home building. As the Project Closeout Specialist, Ty works with our homeowners, project managers, project coordinators and subcontractors to promote a top-quality finish, assisting with the final punch list items as the project approaches completion.
Ty grew up with a love for the water in Encinitas, California, and enjoys surfing, waterskiing, snow skiing, playing tennis, pickleball and spending time with family and friends in his free time.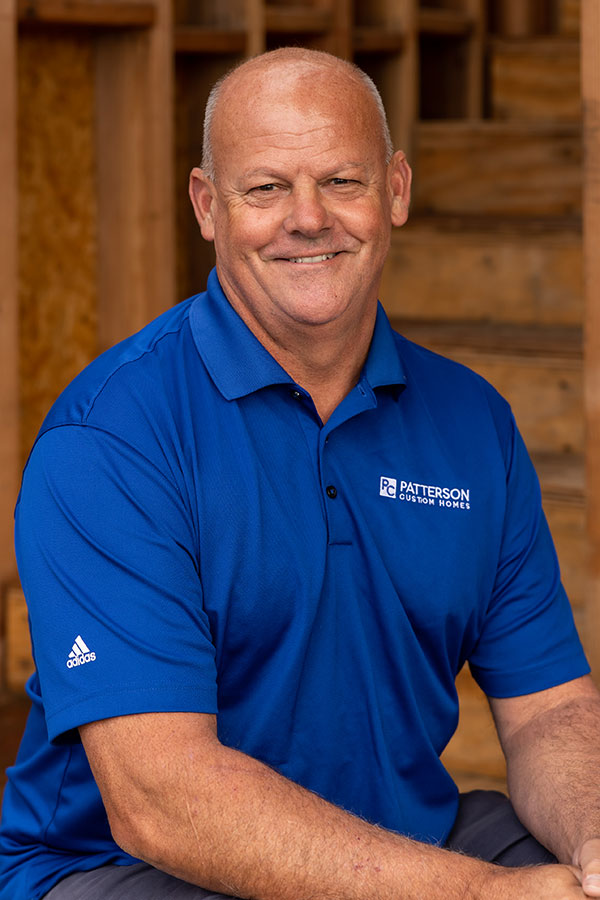 Rich Suitor
Project Manager
Rich Suitor was born and raised in Orange County, California. As a young man, he began working with a custom interior stair company. He was there for three years before joining a local carpenter's union. Rich has an entrepreneurial spirit, and this led him to form his own interior carpentry company after only five years of being in the business. His experience with finish carpentry grew into a position with a local custom home builder. Rich is passionate about craftmanship and dedication which makes him an incredible asset to the Patterson Custom Homes team.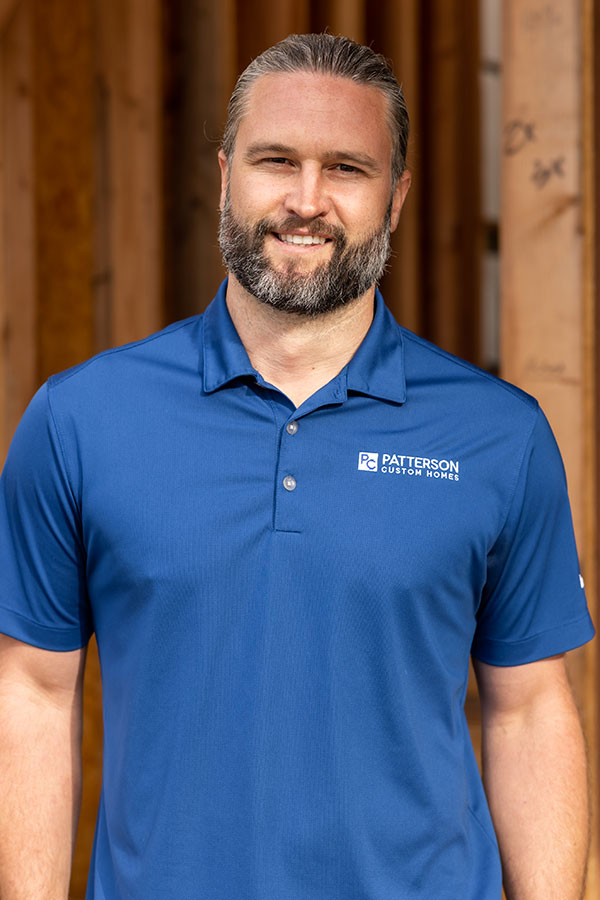 Eric Bridge
Project Manager
Eric Bridge is a Southern California native with a deep understanding of the Construction industry. He began working in construction at the age of sixteen, which sparked his passion and interest for his career.
Finish carpentry was especially appealing to Eric, he gained a lot of knowledge and experience through working under an elite craftsman and builder who was from his same hometown.
In order to attain a more holistic understanding of craftsmanship, Eric attended the Laguna College of Art and Design. During his studies, he focused mainly on translating his current experience to Graphic Design and 3D Modeling. He became a project manager for a national home renovation corporation before eventually returning to more hands-on work. During this time, Eric worked on Patterson Custom Home's projects and eventually was recruited to manage home renovations for an OC builder.
This chapter in his life set him up to have even more skills and tools to be an asset here at Patterson Custom Homes. Eric has worked alongside top trades in the industry and has developed an eye for construction at every stage. His top priority is to provide a great experience for clients, by surpassing expectations and delivering Patterson's high standard.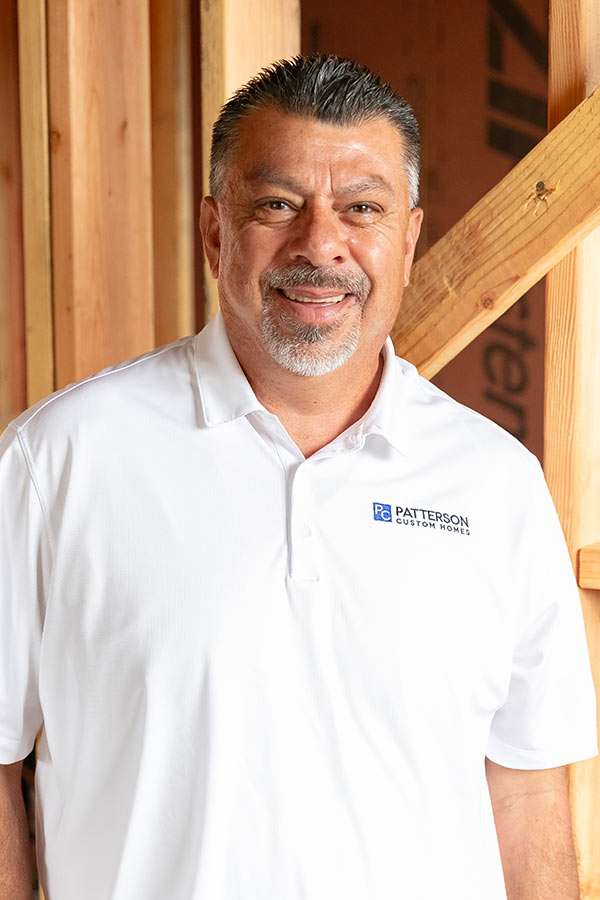 Gene Novella
Project Manager
Gene Novella is a California native – he is proud to say he was born and raised here in Orange County. He has been in the construction industry for over 35 years, beginning in his high school summers. He started out working on local home renovations with his cousin who is a General Contractor. He enjoyed that experience so much he began to work in plumbing. As a foreman, he worked mostly in the new construction, tract home industry. Gene's motivation to grow and learn drove him to take on a new position as an Assistant Site Superintendent where he was quickly promoted to Superintendent.
He was a recipient of the Superintendent of the Year award by the Southern California Building Industry Association in the year 2018. Gene has countless accomplishments in his career, even starting his own business and acquiring his General Contractor's license. All of these accomplishments aside, Gene's pride and joy is his family. He and his beautiful wife have two daughters and one son. He is very grateful for his family and their support!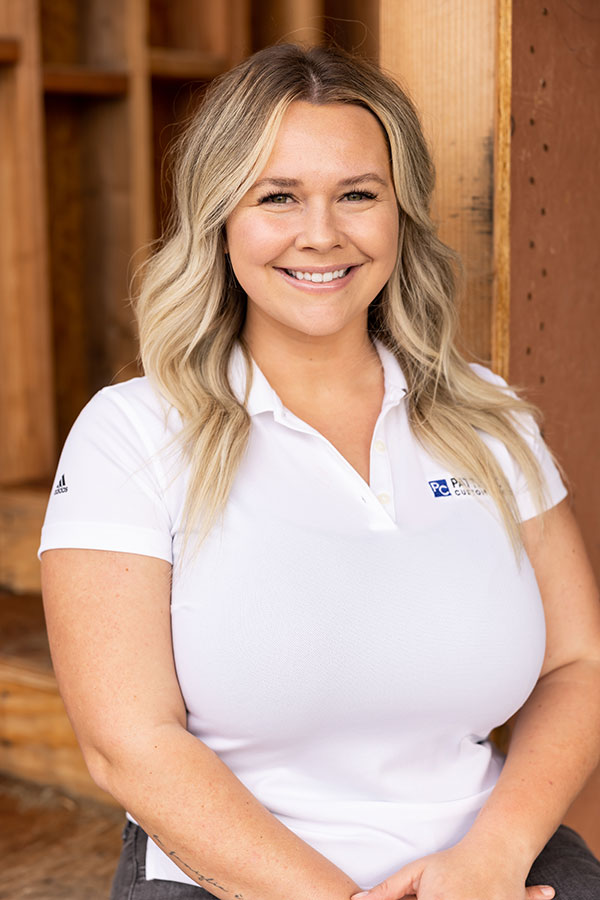 Lindsay Aguirre
Operations Coordinator
Lindsay was born and raised in the Pacific Northwest and has lived in Orange County for the past 12 years. Following graduation, she began working as the Creative Coordinator at Mariners Church in Irvine, where she honed her creative and administrative talents.
Drawn to the beautiful homes in Newport Beach, she spent a lot of her free time at open houses and interior design firms collecting inspiration. She then joined the Patterson Custom Homes' team as the Operations Assistant to further her career and her passion. As the Operations Assistant Lindsay assists the Operations Manager in tracking the progress of all Patterson builds by developing and monitoring each project's milestone matrix and decision schedule analyses to uphold the Patterson standard. She additionally works with the Operations Manager to hire new team members and ensures all employee documentation is complete and current.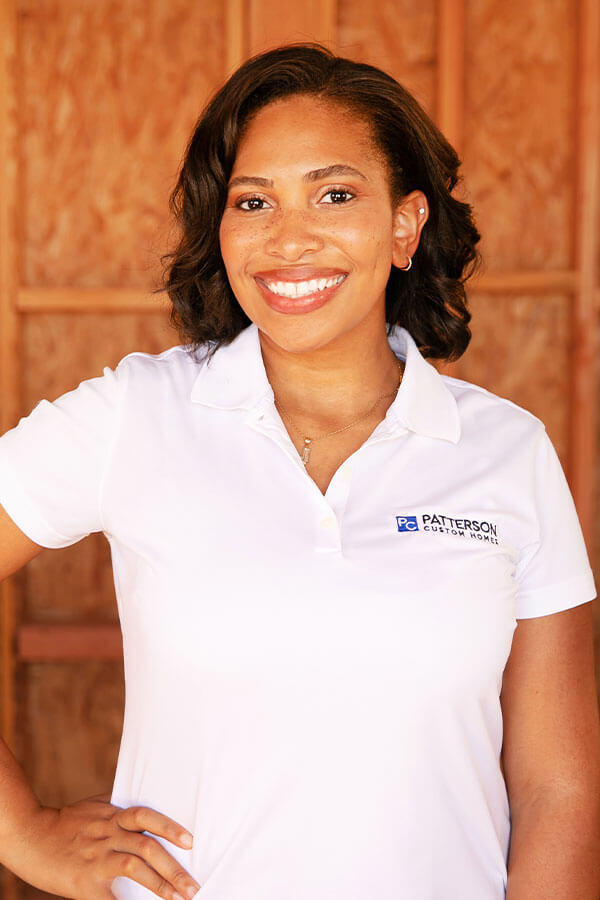 Client Relations Coordinator
Zariah Calhoun
Client Relations Coordinator
Zariah was born and raised in Orange County, CA. Prior to working for Patterson Custom Homes, Zariah worked for an HVAC manufacturer and was responsible for ensuring quality customer service. Her experience with this company sparked her interest in the construction industry as a whole, and Zariah decided she wanted to apply her knowledge of the industry and work for the home building team that brings it all together.
With a background in customer service, Zariah joins Patterson Custom Homes as our Client Relations Assistant. She is responsible for assisting our homeowners who are enrolled in our Custom Care preventative home maintenance program and coordinates the schedules of our services so that our homes are properly maintained. Zariah is committed to ensuring a stress-free and enjoyable experience for our clients by finding the best way to assist them.
Outside of work, Zariah likes to play board games with her husband, go to the beach, and spend time with her family.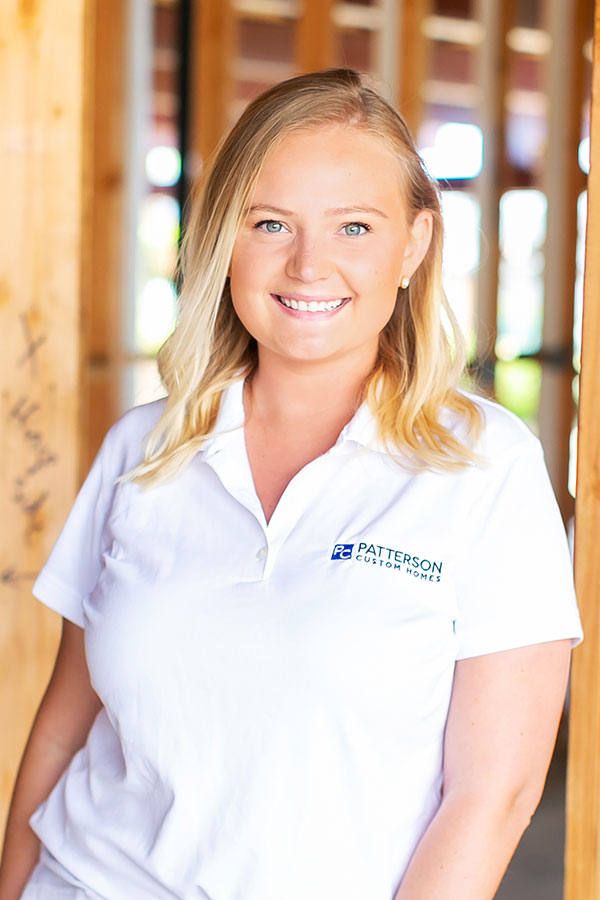 Project Closeout Coordinator
Kristyn Turner
Project Closeout Coordinator
Kristyn Turner was born and raised in a small town in Delaware. Her spark for construction and design was peaked when she began her studies of Interior Design in Philadelphia. After graduating Summa Cum Laude with her Bachelor's degree, she decided to move her life out to California in search of a new career. After working with a local fitness company, spearheading the branding and customer outreach and gaining valuable experience, Kristyn chose to pursue the Project Coordination team Patterson Custom Homes, bringing her customer service skills, project management skills and positive attitude to the team. As a Project Closeout Coordinator she is responsible for overseeing the end of each project, ensuring all details are complete so that our clients can move in smoothly.
Alex Lopez
Assistant Controller
Alex was born and raised in San Diego, CA. He attended Cal Poly Pomona while living in Chino Hills, CA. Upon his graduation, he relocated and began this new chapter in Orange County!
Prior to his time with Patterson Custom Homes, Alex worked as a Project Manager and accountant for a structural steel contractor. Alex is excited to bring his prior knowledge and experience in accounting and home building to the Patterson Custom Homes team.
In his free time, Alex enjoys playing softball, golfing and cooking. He also enjoys attending many Padres games with his wife – they are even season ticket holders!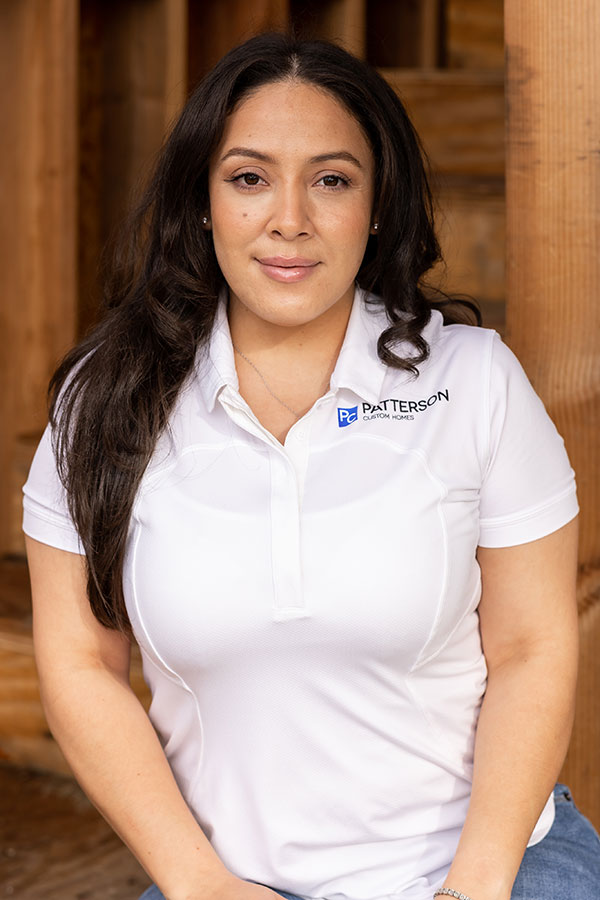 Tatiana Rullan
Tatiana brings years of experience with contractor's insurance to her role with Patterson Custom Homes. She is well versed in providing excellent customer service. Her friendliness and determination are attributed to her background living in California and New York.
She and her growing family are new residents of Orange County. In her free time, she loves to walk her dogs Kona and Loki, cook with her husband, and spend time with friends. Tatiana is eager to connect with the community and to be of service to our homeowners. She is committed to providing the best possible service and product to represent Patterson Custom Homes.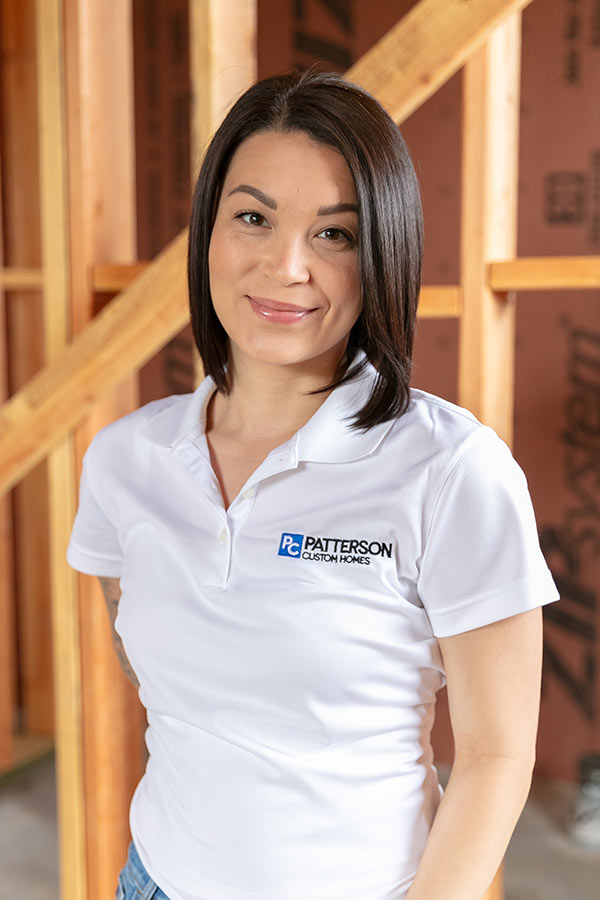 Amber Niece
Amber Niece was born in England, raised in Texas, and has lived in Orange County for the past 25 years. Prior to working for Patterson Custom Homes, Amber was in the mortgage lending industry for the last 15 years.
With a background in operations and quality control, her previous working experience gave her a passion for attention to the details. She also found that she thoroughly enjoys working closely with others, which makes her an incredible asset to the Patterson Custom Homes team as we work closely with homeowners every day! Amber's drive from this knowledge & dedication inspired her to bring her talents to the construction industry.
During her free time, Amber's favorite thing to do is to spend time with her husband and children. Together they enjoy the outdoors, read tons of good books, and love to bake anything imaginable!
Abbey McCrady
Marketing Assistant
Abbey McCrady was born and raised in Arizona, where she lived for 22 years before relocating to Orange County. From a young age, Abbey had a passion for creativity and design. She attended Arizona State University where she received her Bachelor of Science in Interior Design and graduated Magna cum Laude. Throughout her studies, she discovered an interest in many things such as branding, graphics, and a strong desire to make an impact.
With working experience in residential interior design, she became particularly drawn to the process of home building. She is eager to contribute to the Patterson Custom Homes team in delivering the highest quality in all aspects. In her free time, Abbey enjoys going to the beach, visiting a coffee shop, and hanging out with her niece & four-legged nephew!