An Unexpected Start
It's 2021 – and for us, this is a very significant year.
We've hit an exciting milestone, as 2021 marks the 20th year of Patterson Custom Homes.
For those of you who may not know our story, we had something of an unexpected start. Building a successful custom home construction company in Southern California wasn't always the plan; instead, the business began rather serendipitously, thanks to a chance encounter when Andrew found himself looking for a new start.
Let's Go Back to the Beginning
With a Bachelor of Science degree in Construction Management and a minor in Real Estate Finance from Colorado State University, Andrew began his career in commercial development in the Bay Area at the height of the "dot-com bubble" era, when new companies emerged, stocks were high, and the construction industry was lucrative. When the bubble burst and the real estate market all but disappeared, Andrew was out of a job and moved back home with his mom, re-evaluating what he would do next.
After spending some time browsing newspapers' employment sections and flipping through magazines to find inspiration, an article in SURFER Magazine about the iconic "Wedge" surf spot in Southern California caught his eye. Warmer weather and sandy beaches sounded very appealing, and without many other options he was sold – he packed up all his belongings in his truck, drove down the coast, and made the move to Orange County, CA, determined this would be the place that he would discover his new start.
Upon arrival he purchased a small, one-bedroom condo and took on its renovation while he looked for a new career. Little did he know then, but the transformation of the condo would land him the new start he was looking for. When a neighbor saw the quality of Andrew's work and asked Andrew if he would consider building him a house, Andrew hesitated at first, not wanting to be drawn back to the construction world that had left him jilted only months before, but he agreed and took it on.
To get started he knew he needed a bank loan – but as fate would have it his initial loan application was declined. Ever the optimist and a true go-getter, Andrew didn't let the rejection did stop him; he spent countless hours at the bank working to secure the loan he needed and met a woman named Shannon who helped him through the process. The hours he spent at the bank paid off, and he not only got the loan, but also a first date!
With a loan in hand, a first date lined up, and a new build underway, the business slowly started to take shape. Word began to spread about the new construction company in town as Andrew separated himself from the competition through his attention to detail and the streamlined building process he employed. Andrew knew that in order to be successful he would need to surround himself with other talented teams, so he began to develop relationships with other newcomers in the local industry. Instead of seeking out the most established business owners, he found success by partnering with people who weren't as well-known but who had potential. Interns at the City (who are now heads of the building department today) and electricians who were just starting out (but now twenty years later run their own businesses) were the people Andrew became acquainted with.
Andrew and Shannon's relationship continued to deepen during this time as well, and eventually the Patterson team of one grew to be a Patterson team of two. With a background in finance and a strong business acumen Shannon became an instrumental part of the new company, and together they put in countless hours and built a business from scratch. Andrew and Shannon went on to get married and have three daughters and a dog today, and haven't looked back since!
Listen to Andrew Tell His Story
The Patterson Difference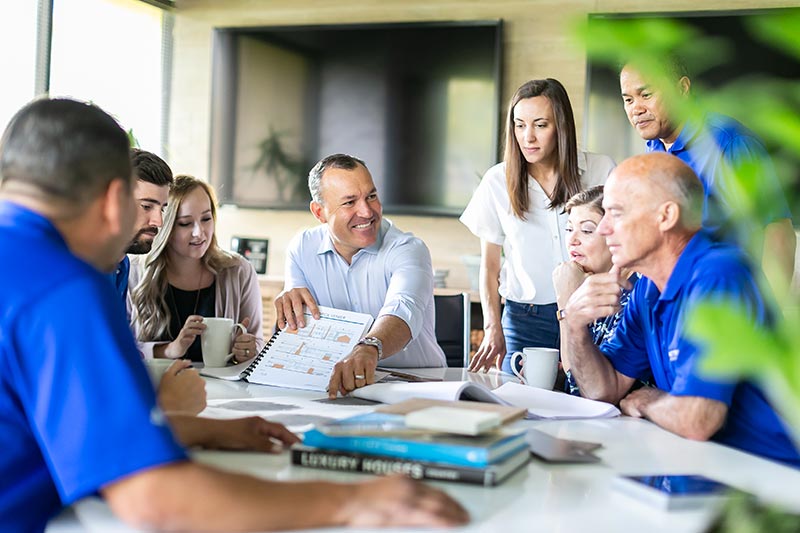 The philosophy behind surrounding ourselves with other talented individuals continues today at Patterson Custom Homes and it's one of the biggest contributors behind our success. Many of the original people that Andrew and Shannon connected with in the very beginning still work with us on our projects today, and we now have a full-time staff of almost 30 people who all specialize in different areas of the building process so that it isn't one person trying to do everything on their own! We pride ourselves on not fitting the stereotype of the "typical" general contractor, and instead are setting what we like to call "The New Standard" in custom home construction, with a large full-time staff providing our clients with white-glove service from start to finish.
To do this, we prefer to get involved early on so that we can help with land and lot acquisition to ensure the desired project is feasible. We bring in consultants, use drones to preview the second and third story views from the lot (we've even been known to bring out a lift to see the views in person), and help review city restrictions and easements. We are able to provide introductions to the area's leading architects and interior designers to make sure we help our clients find the best fit for their proposed project's style and needs, and we work closely with the architect to create a custom home that meets our clients' design, function, and cost criteria.
In terms of budget, we are an open-book contractor and create a preliminary cost estimate for the client based on the project's unique specifications and real costs from previously completed projects. The estimate is sent out to bid, and the budget is established using actual costs received from our subcontractors. Our controller tracks all expenses and provides detailed monthly billings, and our office administrator stays on top of insurance and lien releases.
As far as the timeline, our operations manager forecasts the schedule based on data from previously completed projects and provides our clients with a decision deadline schedule to keep the process from becoming overwhelming and keep the build on track.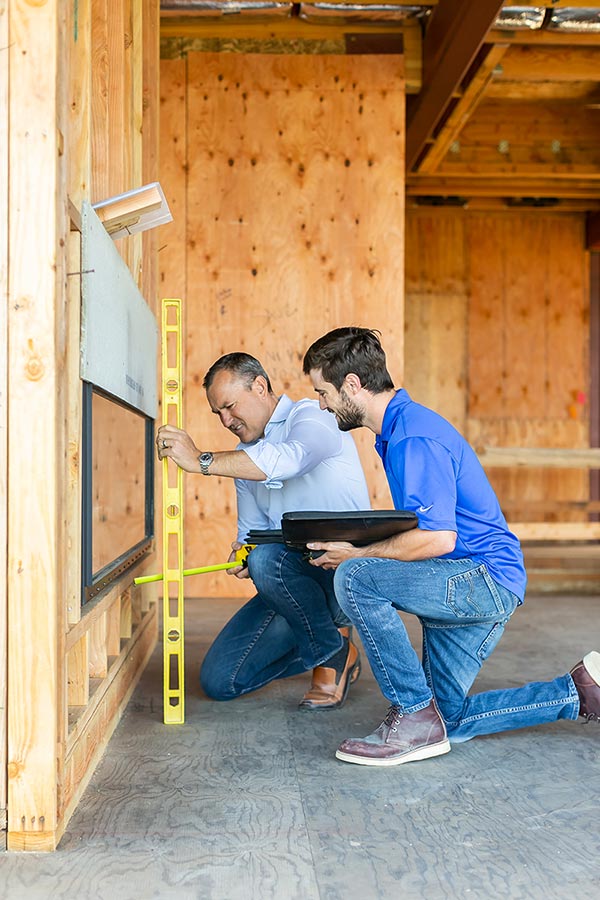 To ensure the project stays organized our team of project coordinators create comprehensive 300+ page specification books for each and every project, detailing every faucet, fixture, and appliance selected, and we create large-format renderings of these details that are displayed onsite. In addition to the architectural elevations and interior design plans, our team of project coordinators and project managers refer to these materials to ensure every detail is accounted for.
As for the execution of the build we only use the highest quality building materials and techniques, going beyond what is required by code, and upon completion our team does a full inspection in addition to the independent home inspector's review.
Upon move-in we give our clients a comprehensive close-out package with copies of all project documentation and warranties. We offer a full-coverage warranty during the first year, a two-year electrical and mechanical warranty followed by a ten-year structural warranty for years two through ten—plus the option to participate in our turnkey Patterson Custom Care preventative home maintenance program, ensuring the home will stay beautiful and keep its value for years to come.
To 20 More
It wasn't always the plan to start this business, but a series of fortunate events helped to set the stage. With hard work and determination Andrew built the business we have today, surrounding himself with a strong team to help build the best homes possible and provide our clients with a great experience throughout the process. We are incredibly grateful for each and every client who has entrusted us to bring their dream home to life over the past 20 years, and for everyone we have worked with along the way. We are humbled to be celebrating this momentous milestone this year and thank you all for your support.
Here's to 20 more! Cheers!
Hear Andrew Talk More About the Business on the AFT Construction Podcast
In this episode, Andrew joins Brad Leavitt from AFT Construction to discuss marketing, growth, and how to build a small business efficiently.