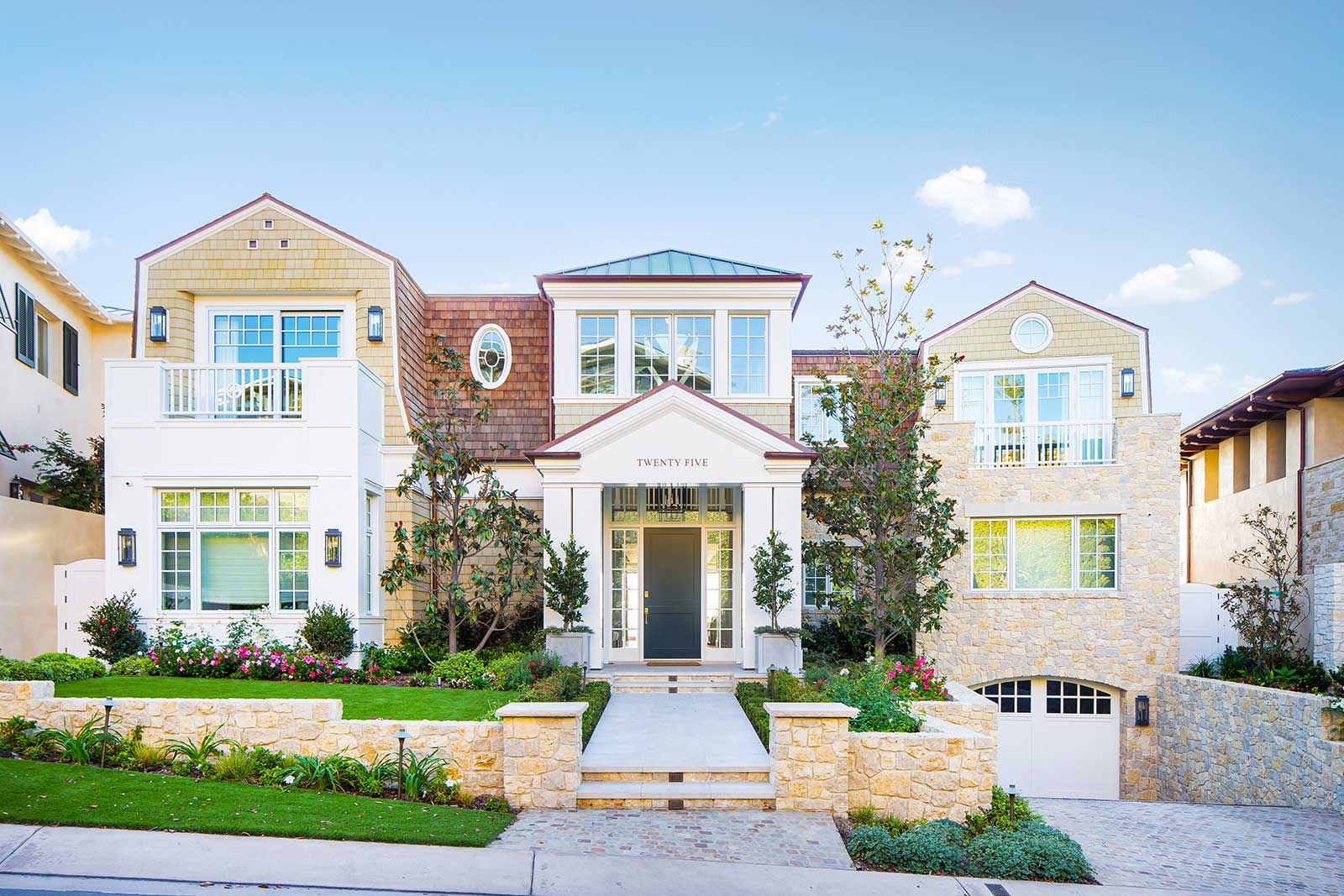 This gorgeous estate was the first home Patterson Custom Homes built in the exclusive community of The Strand at Headlands in Dana Point. With its stunning traditional Cape Cod-inspired exterior, we knew it was going to be quite the undertaking to reach the same magnificent effect upon entering the front door.
We built a grandiose, full-height foyer starting at floor height at the main level and extending all the way to the skylight placed on either side of the ridge beam. Meticulous structural engineering took place prior to breaking ground to ensure the home could support the exposed trusses which span thirty feet across the ceiling. Utilizing a cat-walk around the perimeter of the foyer on the second floor allowed for natural light to flood this expansive space. While height was one component that contributed to this incredible entry, the horizontal span was also extremely important. When your backyard is the Pacific Ocean, it's crucial to highlight the view with an open floor plan from the front door clear through the meticulous sliding steel doors at the rear of the home.
The back patio of the home was another incredible feat of engineering. To make the space feel like a continuation of the interior, we raised the stone decking to be flush with the hardwood floors. The negative edge pool is also level with the decking to provide a clean look with a full plane of water and tile. To further extenuate this streamlined aesthetic, we installed small, linear drains throughout the patio in place of grout to fool the eye into thinking there are no drains present.
Property Highlights
Square Footage: 8,964 Square Feet, 2,705 Square Foot Garage
Location: The Strand at Headlands, Dana Point
Specifications: 5 Bedrooms, 7 Bathrooms, Home Office, Subterranean Garage
Built In Collaboration With
Let's Work Together
We're ready to start working on your custom home. Are you?